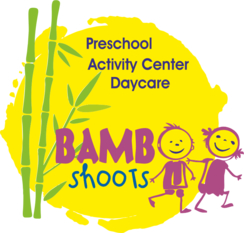 Bamboo Shoots Preschool & Daycare
Bamboo Shoots' is an innovative Preschool, Day Care and Activity Center based on the oriental philosophy revolving around the bamboo tree. Towering elegantly at great heights, the bamboo stands for immense potential in our children. The tender shoots take a while to grow; sometimes years of consistent nurture goes in while one sees no visible signs of growth. We need to nurture the roots and tend for the little shoots with patience, perseverance and faith. The task of raising successful children needs loving care that nourishes the body, mind and soul. The bamboo signifies deep rooted strength of character, teaching us that we should develop an inner foundation of competency and ethics to ground our success. Its virtue of humility and modesty on account of its hollow stem teaches us to be the empty cup that can be filled up with the nectar of knowledge or to be the flute, an instrument of harmony in the hands of God. It accompanies human beings from birth to death and has helped sustain the human race for centuries by being a part of all walks of life, ranging from food to artifacts! We at 'Bamboo Shoots' take inspiration from the bamboo as a symbol for what education should stand for!We help identify the talents and hidden potentials of each child in a scientific way in order to maximize his/ her learning potential. The progress of each child then gets based on a solid foundation of an in depth understanding of his/ her strengths and challenges. This enables us to boost the child's confidence by working on his/ her strengths and developing the personality, by imparting training in a targeted manner.
Address
Shreekunj, Plot No. 40/41, Kulashree Colony, Lane No. 2, Opposite Vedant Nagari Road, Karve Nagar, Pune, Pincode:411052, Maharashtra.
Features
Arts & Crafts, Dance, Drawing & Painting, Field Trips, Games, Music, Sports, Storytelling, Tuition

All Day

Indoor Play Area, Outdoor Play Area

All Meals

Co-Ed

English, Hindi, Regional Languages

30

Play-way Schools

Arts & Crafts, Dance, Drawing & Painting, Field Trips, Games, Music, Sand Play

School Bus, School Van
Working hours
9 am to 7 pm

9 am to 7 pm

9 am to 7 pm

9 am to 7 pm

9 am to 7 pm

9 am to 7 pm

Holiday/closed
Related Listings