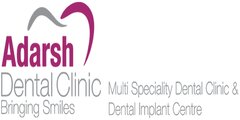 Adarsha Dental Clinic
Adarsh dental clinic is a reputed centre that provides a wide variety of best dental care / oral treatments and services in Chennai. The clinic incorporates the latest technological equipment for treatment. The centre also employs the state-of-art infrastructure The modern dental sciences have opened new doors and avenues for thousands to get their dream smile. Dentist in Chennai has reached their pinnacle of popularity with their amazing and adaptive techniques to gift the people with smiles of their choice. Adarsh Dental Clinic provides some of the most advanced dental services that are sort out by customers across the globe. Their unique program called the Dental Tourism was designed specifically keeping their foreign customers in mind helps them to avail the required services with ease. They are a happy team of dentists who are proud to say that they make the world a better place by engineering the perfect smile for the right face. Above all their pediatric services are pretty popular with their younger clientele and their parents. Instead of it being a chore it has become an experience of pleasure and fun for the happy and immensely satisfied customers of Adarsh Dental Clinic. To them, dentistry is not just a service they impart for a living but they do it with a passion that makes it a highly enjoyable for their customers.
Website
www.dentistinchennai.com/
Address
No. 10A-33A, Balaji Nagar, 1st Street, Gill Adarsh School, Royapettah, Chennai, Pincode:600014, Tamil Nadu.
Working hours
9 am to 8.30 pm - 2 pm to 4 pm

9 am to 8.30 pm - 2 pm to 4 pm

9 am to 8.30 pm - 2 pm to 4 pm

9 am to 8.30 pm - 2 pm to 4 pm

9 am to 8.30 pm - 2 pm to 4 pm

9 am to 8.30 pm - 2 pm to 4 pm

9 am to 2 pm - 2 pm to 4 pm
Related Listings