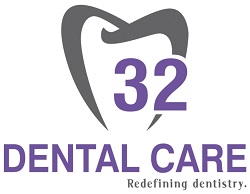 32 Dental Care
32 Dental Care, an entity of Thirty Two Healthcare Pvt. Ltd. , is a multi-specialty dental care provider based indifferent parts of Chennai and growing. It takes pride in being the only ISO 9001: 2008 certified dental groupin the city. Additionally, Universal Registrars and American International Accreditation Organization – Bureau of Accredited Registrars, have accredited all branches. It aims at providing the most comfortable ambience and state-of-the-art technology in the dental field, which is directed towards a commitment of excellence in the vast field of dentistry and to assure patient-oriented treatments with outstanding quality. The ambition and philosophy of 32 Dental Care is to provide highly personalised dental care that is tailored to the need of every patient in a relaxed and friendly environment to extend an enhanced experience. 32 Dental Care strives to provide an all encompassing, functionally and aesthetically driven, outcome-centred and comprehensive dental care. Be it cosmetic dentistry, orthodontic braces, full-mouth rehabilitation, smile makeover, implants, or pain-free root canal treatment, 32 Dental Care provides complete dental solutions under one roof with various specialist dentists. With the help of highly experienced and trained specialist dentists, the kind of treatment is made simpler.
Website
www.32dentalcare.org/
Address
No. 7/473, 1st Floor, Velachery Tambaram Main Road, ., Medavakkam, Chennai, Pincode:600100, Tamil Nadu.
Working hours
10 am to 9 pm

10 am to 9 pm

10 am to 9 pm

10 am to 9 pm

10 am to 9 pm

10 am to 9 pm

10 am to 9 pm
Related Listings